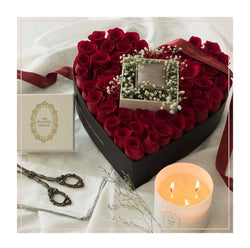 Classic Heart - I Choose You
When that special day of proposal has to be done in the most romantic and heartwarming way, gift your precious one a heart melting box of roses with a ring holder box incorporated in the center surrounded with graceful delicate gypsos creating your moment perfect than ever.  
Disclaimer- Preparation time of 1 day is required. Fixed time delivery cannot be guaranteed.