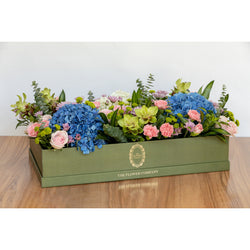 Bring home a composition of wild exotic flowers with roses, carnations, lilies, sam tulips, daisies, hydrangeas and a fragment of greens exhibiting the exotic look to add a unique touch to your special occasions.
Disclaimer- The flower colour is subject to availability. Under certain circumstances the company may provide with an alternate flower colour as per availability.
*Order for this arrangement must be placed 1 day prior to the day of delivery.*  
Fixed time delivery cannot be guaranteed.