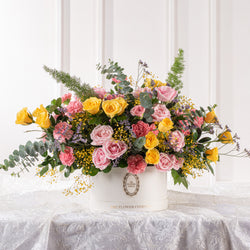 Our freshly bloomed flower arrangement features a bunch of roses, carnations, delicate gypsos, merries grass, silver dollar and limonium. It is clubbed together in our Grande Ronde box.
 Gift this vibrant floral arrangement to your loved ones. Place your order now.
Disclaimer- Order should be placed 1 day prior to the day of delivery.